FAQ
Q. Can I pester you with questions before even reading this FAQ or thinking about things logically?
A. No you can't. 99% of questions we get asked in these siutations can be answered if you just take a ten minute breather and think things through.
Q. Can I submit a short film, or a film idea without a poster?
A. No. This funding is for the production of a Feature Film (google it) made in NZ by resident filmmakers. Also, you must upload a poster to 'sell' your idea to the public and judges. Entries close 31st Oct. so we want you to get it right and read the rest of these frequently asked questions and the Terms and Condtions .
Q. Can I just upload something that simply promotes another event I have planned, like some godawful standup comedy gig?
A. No. Go away.
Q. How much does social media stuff play in the first cull down to the top 12?
A. It plays a part but is only an indicator at this stage. We're not going to let great talent and projects slip through the gaps because they haven't got a facebook account yet. It's when it all gets down to the final 12 is when the public voting becomes a much bigger issue.
Q. Can anyone in the world enter?
A. This competition is open to New Zealand residents only.
Q. I can't think of a title for my film so can I leave it blank?
A. Unless you're Spielberg – just putting "An Untitled Film by John Smith" might not raise any interest from people in seeing the film.
Q. I can't design a poster, what can I do?
A. Well our question back would be this - How are you going to make an entire movie if you or someone you know can't design a poster? We understand not everyone has the creative ability necessary to design a poster but we also know that making films is a long and arduous process and it all hinges on persistence. To never give up because of a small obstacle. You want to enter this competition, then find a way to make a poster. Try to keep the poster standard format - that is about 1.5 times high as it is wide.
Q. What do movie posters look like?
A. Wow this is going to be a loooong FAQ. Okay here is a link to some cool Indie Posters. The artwork covers a wide range of styles. Otherwise just google 'movie poster' you'll see a few examples.
Q. I might have stolen an image off the web in my poster, am I going to jail?
A. Probably not hard time maybe a relaxed prison where you play golf with pricks who rip off pensioners. It's not cool to use others work, so we encourage everyone to have a go at designing one. The poster is a way of expressing a vision. Of course we'd love a complete and perfectly finished one-sheet but if you end up doing something in crayon, we'll be very happy too. Ultimately if we are approached by any copyright holder of any image you have appropriated, we would remove said image immediately.
Q. What is a logline?
A. A logline is a brief summary of a television program or film, often providing both a synopsis of the program's plot, and an emotional "hook" to stimulate interest. ie. RUSHMORE ; A precocious private high school student whose life revolves around his school competes with its most famous and successful alumnus for the affection of a first grade teacher

Q. What is a tagline?
A. A tagline is a variant of a branding slogan typically used in film marketing materials. This is what you might use on your poster design. Not all films need a tagline. It is not compulsory. The idea behind the concept is to create a memorable phrase that will sum up the tone and premise a film. ie. ALIEN : "In space, no one can hear you scream."
Q. What is a short synopsis?
A. A synopsis is a brief summary of the major points of a written work, either as prose or as a table; an abridgment or condensation of a work. Keep it short and make the reader want to know how the rest of the story plays out. For the love of everything holy, do not giveaway the whole film! Set the scene, the characters, the hooks and any relationships and the crux of what the plot is.
Q. What sort of movies are you looking for?
A. We don't want people to create something they think we want. We want them to create something they want to make. And hopefully that the public want to see it too.
Q. How can you make a good movie for $100,000?
A. Not only a good movie, you can make a bloody great movie for that sort of money. To give you some sort of idea just how memorable an ultra low-budget film can be, here is a list to get your creative juices flowing; Cube, Clerks, Brother, Bellflower, George Washington, El Mariachi, Laws of Gravity, Night of the Living Dead, Once, Paranormal Activity, Pop Skull, Primer, Slacker, Supersize Me, Tape, Texas Chainsaw Massacre, Tiny Furniture and many more. The latest film by kiwi indie filmmaker Florian Habicht called Love Story was done for a pittance and opened the NZ Film Festival. All these films share one thing. They were unique. They were fresh and they broke new ground (which quickly became formulaic as everyone copied them) but they were a highly original vision. That is the key to breaking through all the rest of the clutter.
Q. I've been in the industry for 20 years and have worked on $1,000,000+ features, why would I even think about trying to make a feature film for $100,000?
A. Firstly congrats. We know how hard it is to work full-time in NZ on film/tv. But we have to ask.. how are YOUR million dollar plus feature plans going? A lot of people have worked on other peoples larger budgeted films but where's YOUR feature? You got another spare five years to see if you're even lucky after a long development? This $100,000 is for those who WANT to create. It's for those who NEED to create. We also can think of a few established 'names' who might find something like this enticing. They might have a very specific personal project that would never get funded via traditional routes.
Q. Does the idea actually win the money or the person/team?
A. Well an idea can't really go into a bank and withdraw money, so any funding will go to an individual or company with a bank account. But we get what you mean. It's a combination of the two. A great idea will usually come from talent. We just want to make sure they can execute that idea. There's also a bit of paperwork to sort through and maybe a DNA sample or two before the cash gets to you.
Q. Can I submit with a previously completed script?
A. Sure you can. Blow the dust off your Titanic sequel and scale it back to ultra low budget. Make it a dinghy movie, like Hitchcock's Lifeboat.
Q. If I submit my idea on here will someone steal it?
A. Sorry to break this to you but your idea is probably not an original one. There will be 1000 other people in the world with that very idea in their head at this exact moment. It's really about what you do with that idea. You could sit on it forever and never do anything, or you could put it out there and see what happens.
Q. Do individuals/ teams with scripts already written get an advantage?
A. Only in the fact that their idea will probably be well formed. A great idea alone can make it right through to the end if there is talent to back it up. An idea can only get you so far.
Q. Can we get additional funding (private investors, sponsors etc)?
A. Absolutely. You are welcome to bring on additional partners to help you make your feature film. As long as they don't clash with our existing ones. And please remember that we want the filmmakers to be first in line when revenue comes back in. If they wish it to go to their additional partners then that will have to be something discussed.
Q. What's the deal with the backend?
A. Well hold on there Mr Coppola, you obviously know a bit about this film business. So let us bring others up to speed who don't know all the fancy movie terminology. The backend he/she is referring to is the revenue stream from any sales of the film. The model for the winning film will really depend on how good the film turns out. Our agreement with NZ On Air and the NZFC is primarily just about gettings eyeballs to see the finished film. Anything above that will be seen as a big plus. We like getting pluses. The backend deal with the MMM film is that the filmmaking team who create the film will take $100,000 from all revenue of the film (less distribution expenses) with a minimum 50% of money going to cast & crew. After the first $100,000, the revenue stream is split into thirds between The Winning Team/ MMM/ NZFC.
Q. Can I enter more than once?
A. Yes you can.
Q. So theoretically I could end up with multiple projects in the Top Twelve?
A. Well theoretically I could be living on a parallel world where I live as a cyclops, but we like your confidence, which goes a long way in this business.
Q. Is there a minimum age?
A. Anyone can enter. If under 18 please make sure a parent or guardian is the person ticking our T&Cs.
Q. How long do we get to make our film?
A. Depending on the project and the winners schedules we're hoping to keep this incredibly tight. A matter of a couple of months from winning in January.
Q. What if I don't have a producer?
A. That's okay, you don't need one to submit. But if you end up winning you'll need one for sure. MMM will be Executive Producing your film and if required bring a co-producer on to make sure you don't run off to Mexico with the loot.
Q. What if I don't have a director?
A. Again, we can assist in finding one if you make it through to the Top 12.
Q. Can my movie idea be R18, R16, etc?
A. We do have a small obligation to NZ On Air that the winning film doesn't break any laws or broadcasting standards but until it's classified by the Office of Film and Literature Classification no one knows what rating it will be.
Q. Will you help find cast, crew, equipment, etc?
A. Your producer will be doing that and we will be there for any assistance you may require.
Q. Can I make the movie in Mexico?
A. What's the deal with Mexico? Look we all could use a Tequila right about now, but that's no excuse. No, you have to make it in New Zealand. Ok well maybe Fiji, Samoa or Tonga at a pinch. Ok lets just say anywhere thats close and lovely to visit for a couple of weeks. It's not that we don't trust you... well actually it is kinda that.
Q. How does the voting work, do the public play a part?
A. Yes they sure do. Through sharing your project through social networks FB/Twitter (use links on your upload page) we at MMM can guage public interest and use that information when we cull from all the initial entries down to a Top Twelve. When we are at that stage, the 'likes' (aka votes) are reset and voting begins anew for the final Top Twelve. From the Top Twelve we get down to a Top Two and this decision is made up of a panel of 5 with the public being consolidated as '1' vote ie 20%. The decision between the Top Two projects will be up to a panel of industry experts.
Entries are submittied (lets say 50 of them)
Entrants share their work through social media buttons on the site
MMM culls the entries down to a Top 12 using data from social networks and industry advisors
The Top 12 are revealed via nzherald.co.nz
The public then say which film they like by 'Liking' the project
The Top 12 are reduced to the Top 2 by a panel of 5 (with the public making up 1 vote of the 5; ie 20%)
The Top 2 projects then go head-to-head.
A panel of experts judge the best project and away we go.
Q. Who decides which movie gets made?
A. The public have a major say in the process along with a panel of industry experts including one from the NZFC and one from NZ On Air.
Q. Will you just pick your own favourite?
A. All of this is part of a giant experiment and the excitement for us is how this is all going to play out. There's absolutely no interest in playing favourites. We want to hear what the public think, what you think and then see how it all turns out. It could all end in tears but we're lucky to be able to at least attempt something unique.
Q. Who are the selection panel?
A. A mix of established industry people.
Q. Is there distribution for the film?
A. The film will get some form of distribution no matter what. At the moment Make My Movie creates a PFA (production finance agreement with the NZFC) they will handle sales of the film but this can also be altered dependent on the films circumstances. The level of the distribution will be decided on how great the finished film is. The worst case scenario is that the film will be given will be seen by many via a mammoth conglomerate (APN), so at least it gets seen by a tonne of eyeballs. The best case scenario is that the film has commercial prospects, gets a release across multiple mediums and returns some decent income to the filmmakers.
Q. I think I can make this all by myself. Do I get all the cash?
A. If you can prove to us that your idea is able to be executed completely by yourself (an animated feature etc) then yes you'd be in line to get the bucks by your lonesome.
Q. I live in NZ's most isolated town, who will pay my travel, accommodation etc?
A. You can make a movie anywhere. As long as your budget can cover it.
Q. My girlfriend left me and she wrote half the script, what now?
A. Sorry to hear that. Did you leave the toilet seat up again? We would not be able to move forward if your script was tied up in a legal quagmire. You need to make up with her, start thinking of her needs and sort it out. You're probably in the wrong.
Q. Will I hold the rights to this script when it's finished?
A. Yes you will. We recommend talking to a lawyer like Tim Riley @ Dominion Law if things start getting complicated for you.
Q. Can I pull out of the project if someone offers me more money for my script?
A. Yes you can pull out at anytime. Unless we've started production on your feature and if you try and pull out then, we will break your kneecaps. Capiche?
Q. Can I pitch an animated idea?
A. But of course.
Q. Can I pitch a documentary?
A. Yes but a documentary under these sort of pressures and timelines might not be compatible. A faux documentary would be more achievable. Or something along the lines of light fare like Supersize Me where its a controlled subject.
Q. Can I pitch a porno?
A. Charlie Sheen is that you?
Q. Isn't this whole concept kind of flawed and just some sort of ridiculous cash-in geared to tick boxes about social media and crowd sourcing?
A. We're actually big fans of flaws, they make life interesting. I once knew a pretty girl who had a scar down one cheek. The scar made her seem prettier. Perfection is for airbrushed covers and product shots. This is no gimmick. We are taking this seriously but we also want to have fun along the way. Filmmaking shouldn't be depressing and soul destroying.. thats what relationships are for... ZING!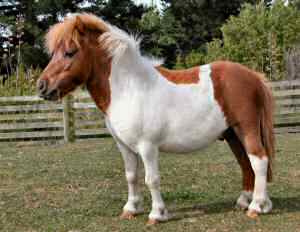 Q. Isn't it true that you have compromising photos of those in charge of the purse strings down at the NZFC and NZONAIR, I mean how else do you explain this thing getting a greenlight?
A. No comment. In the meantime check out this great photo of a miniature horse.
Q. I get this funny tingling in my right arm now and then, should I be concerned?
A. We're getting off track here.. but yes that tingle could be the start of heart problems. See your doctor immediately.