AND THEN THERE WERE..... FOUR?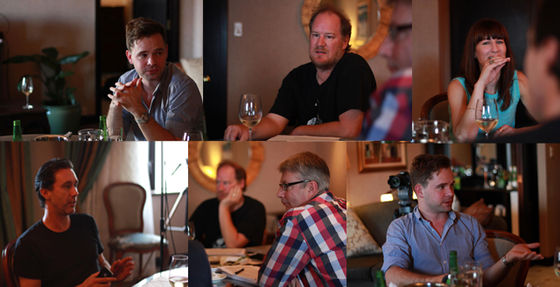 The MAKE MY MOVIE (MMM) team were due to announce TWO finalists today to go through to the next round. Well that's not going to happen. After much deliberation between the panel and the MMM producing team, it has been decided that FOUR projects will be moving into the next phase.
Some very difficult decisions were made and we don't mind admitting that the ones we thought were sure bets didn't actually end being the ones to make the cut. We want to acknowledge those teams that did great work up to the point and we wish that they take their projects further.
The co-producing team of Jonathan Dowling and Andrew Beattie (producers of the MAKE MY MOVIE eventual winning project) will speak to the final four teams that the panel selected. After that intense discussion the teams (some/all) will go away and write full scripts. Then a final winner will be chosen from the submitted scripts.
The panel was made up of representatives from MAKE MY MOVIE as well as Lisa Chatfield, Jonathan Dowling, Rachel Gardner, Andrew Miller, Glenn Usmar.
The public Facebook Campaign acted as an additional voting panel member. The panel considered the following criteria; the team's talent and passion for the project, the originality of the idea, the ability to execute on a low budget, a waiting audience for it and more.
THE FOUR PROJECTS CHOSEN TO MOVE THROUGH TO THE NEXT PHASE
This Papier Maché Boulder is Actually Really Heavy - Blue Tak - Auckland
"A charming and innovative idea about two doofuses who are transported into a very real Z-Grade Science-Fiction film. A concept that could have legs outside of fest exposure"

How to Meet Girls from A Distance - Traces of Nut - Wellington
"Funny and slightly perverse spin on a rom-com that subverts the formula by making the likable protagonist a peeping tom. Could play to a decent audience if cast well and hits all the right buttons"

Sex Priest - Geeracula Spectacular - Wellington
"Overcomes its in-your-face title by telling a more complex story about fatherly love that many might find rewarding viewing"

Never Forget - Tears of an Eagle - Auckland
"bold, shocking and intense 4-hander with two malleable males being manipulated to torture a supposed terrorist by a woman harbouring a dark past. Has enough surprises and twists to keep audiences riveted."