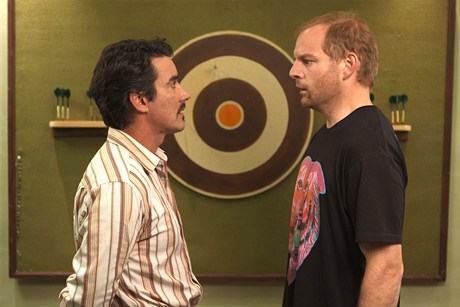 By Dylan Moran
It's been a long time since a good Kiwi comedy hit our screens, but How To Meet Girls From A Distance definitely assumes that mantle.
It tells the tale of Toby, a man who takes the art of Facebook stalking to the extreme in his quest to find true love.
He meets the beautiful Phoebe by chance and goes to some extreme lengths to "get to know her, then meet her", as the film's tagline says.
Toby surreptitiously learns her favourite band, restaurant, even the name of her dead pet, before hitting a snag. Phoebe has a boyfriend.
Undeterred, he tries his hardest to break them up so he can have his trophy to himself.
Unable to distance himself enough to realise what's going on and acting in spite of some sound advice given to him by people who do, he quickly finds himself in trouble as his world comes crashing down around him.
How To Meet Girls is the winner of the inaugural Make My Movie competition, and the helping hand the creative team received from industry insiders really pays dividends.
48 Hour Film Festival head Ant Timpson lent his expertise to the team and it shows - the movie takes all the laughs you can expect from a well-crafted 48 Hour entry and extends them.
It's beautifully shot, and while the acting at times leaves something to be desired, the characters are well crafted and the film delivers some serious laughs - including an especially brilliant third act gag