PEEPING TOM ROMCOM SNEAKS INTO FESTIVAL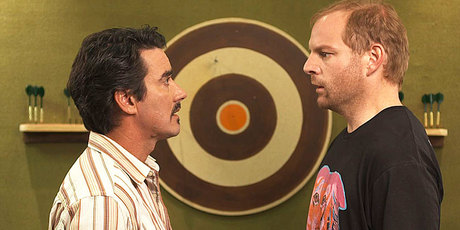 A film shot and edited in just six months with a budget of $100,000 has been selected to appear at the New Zealand International Film Festival.
How to Meet Girls From a Distance, the winning entrant of the Make My Movie competition - a partnership between the NZ Film Commission, NZ On Air and nzherald.co.nz - will screen in at least six cities as part of the film festival circuit, which begins in July.
The film, described as a "peeping Tom rom-com" and created by first-time director Dean Hewison and a team including Richard Falkner and Sam Dickson, will also feature as part of Melbourne Film Festival's Breakthrough Screenings to buyers and agents in August.
New Zealand festival director Bill Gosden confirmed the film would screen twice in Wellington and once in Auckland as part of a selection of 14 New Zealand films, and would also feature in the Christchurch, Dunedin, Palmerston North and Hamilton festivals.
Written, shot and edited in just six months on a budget of just $100,000, How to Meet Girls From a Distance won an online competition that asked would-be filmmakers to pitch an idea with just a poster and a tagline.
Winning with the tagline "Get to know her, then meet her," Hewison told nzherald.co.nz he was looking forward to seeing the finished product in a cinema for the first time.
"It's all been incredibly fast. We only started writing it on January 12, we've written six drafts, shot it, and done six or seven versions of the edit in that time. It's been incredibly intense."
Hewison said the film, about a stalker, hadn't changed much from their original idea.
"We initially thought we'd be pushing boundaries of taste and decency, but over the course of writing it we wanted to make sure our lead character was likeable.
"We almost went too far and made him too likeable."
Gosden believed it would stand out at the festival because it was a genuinely funny film.
"I think it will stand out because it's a popular comedy, it has a real advantage in that respect. Everyone says it's surprisingly good, I think they proved what they set out to prove, really."
Plans for the film to go on general release are being made for after the film festival, as well as for the next round of the Make My Movie competition.
*Click here to watch the Make My Movie webseries that has followed the project from day one.
(story courtesy of nzherald.co.nz)